Any of these can be removed using the fabulous Clinical Skin Clear machine.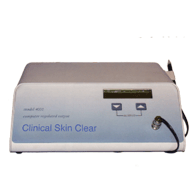 You can enjoy clear skin. Many people have minor skin irregularities – lesions or small lumps, odd growths, or spots on the skin. These can be on the face, or anywhere on the body. They vary greatly in appearance and the vast majority of these bumps or spots are benign. More often, these can be removed by a simple and quick procedure.
Typical Lumps and Bumps that can be successfully removed:
 Fibromas
 Cherry Angiomas – red lumps/blood spots
 Skin tags
 Pigmented spots
 Milia – white lumps
 Telangiectasis – very fine spider veins
Of course, only a doctor can properly diagnose what is benign and what can be cosmetically treated, as opposed to those more sinister spots that need full and surgical removal.
View Gallery to see the types of lumps and bumps we treat
Clinical Skin Care Technology
Dr Samer uses the Clinical Skin Clear machine as part of your cosmetic treatment plan to remove lumps and bumps. This machine works non-invasively, combining radio and High Frequency technologies.
Treatments are very quick, it does not pierce the skin's surface, and the surrounding tissue is not harmed. This means the risk of scarring is very unlikely.
Small skin tags, or blood spots disappear immediately and hyper-pigmented areas, such as liver or age spots, take only a few seconds to treat. There is minimal discomfort and healing time is short, ranging from 1-2 days for skin tags and spider veins, to a couple of weeks for larger skin abnormalities.
Look the Way You Feel